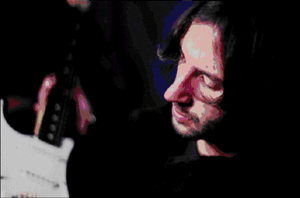 Scott Robertson
Scotty Rock and Roll, a remarkable guitarist, singer/songwriter, performer, supporting a band or fronting his own project with presence and musicallity. He has played on dozens of local artist CD's and is a cornerstone of the independent rock world in the San Francisco Bay Area. He is known to play stratocaster with dozens artists in the bay area including, Fleeting Trance, JJ Schultz, The Wildlife, LVEO, Blair Hansen, James Colley and Tall Shadows.
2005 marked the release of two albums of his original songs.
Scott Robertson - Soul Lover - (LSR-211) - is a five song recorded with Robert Johnson on drums and James Colley on bass.
Scott Robertson - Folklore - (LSR-212) is 9 songs produced by Clayton Bigham plus 2 recorded by Scott on a four track in his bedroom.
Scott also appears on the San Francisco Challenge 2002 - Live at the Hotel Utah Saloon.
Check out some live mp3's at http://www.myspace.com/redvicsessions
Check him out at http://www.garageband.com/artist/Scott_Robertson
Check out Scott at the Coppa D'oro - Last Stop Records Showcase...

Be part of the evolution.