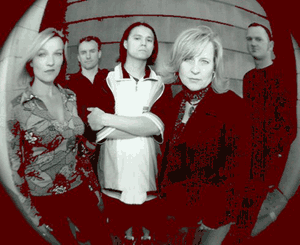 Lullaby Crush

BUY - Lullaby Crush - Why On Earth at cdbaby.com
Lullaby Crush's humble beginnings occur in Oakland California in early 2002 when guitarist/songwriter Jason Cole posted a "Female Vocalist Wanted" ad on craigslist.com. The first to respond who could actually sing was one Val Lipman. "The musical spark was there and the fire, all be it small, was lit", Jason recalls. For many months Val and Jason searched in vain for another singer, auditioning over twelve potential candidates. In July the band auditioned Gia Brazil for the vacant vocalist position. Gia was a co-worker of Jason's and she got the job almost instantly. "Her sweet, soft voice really added flavor and texture to the harmonies", remarks Jason.
The search for a solid rhythm section was on and in October, Gil Guinan answered the Craig's List ad for drummer wanted. "At the audition he counted off the song, 'Why On Earth' and within about 3 bars I knew Gil had the job", Jason recalls. The as-of-yet unnamed band soon relocated to San Francisco and the search for a bass player was on. After going through several hired guns, LC welcomed their new bass player Fergus Lenehan (yet another Craig's List respondent) as their 5th permanent member in December of 2003. Fergus's solid chops, pro experience and all around good time drinking abilities made him the perfect fit as the final piece of puzzle.

The band was named Lullaby Crush in October of 2002 and soon after, on Saturday November 9th, they played their first show with at the Voodoo Lounge in San Francisco. Playing to a full house, the band's debut was very well received. It was the first of many more entertaining and moving performances. 2003 saw the band begin work on their debut album. Released in September 2004 the album, "Why On Earth" surely made 2004 the best year yet for the talented acoustic rock band known as Lullaby Crush. But please stay tuned to their story for it is far from over...
For more information visit: http://www.lullabycrush.com
Be part of the evolution.