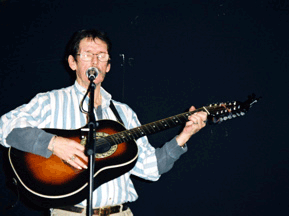 Lee Mallory
Lee Mallory - Live@the Hotel Utah vol. 1&2 available at cdbaby.com
Read & post your thoughts on the Lee Mallory Message Board.
Singer-Songwriter Lee Mallory was celebrated by San Francisco on the occasion of his 60th birthday January 10th, 2005. Lee Mallory was honored for his contributions to American music and our City of Music. At age sixteen, Lee Mallory left home with a guitar and has made his way as a musician ever since. In the 1960s, Lee wrote for the Association; toured with the cast of Hair; and charted as an artist with That's The Way It's Gonna Be.
Lee Mallory was a founding member of visionary sunshine pop supergroup, The Millennium.....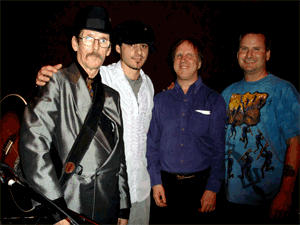 Produced by Curt Boettcher. Millennial visions, synthesizer, loops, backwards koto in 1966? Listen to Lee Mallory! Lee Mallory did not rest on his laurels as an originator of the 1960s California Sound. He has an encyclopedic repertoire of rock, folk, sea shanties and bawdy ballads.
For several years, Lee Mallory was one of the beloved outdoor entertainers at the Cannery. As an instrumentalist, Lee Mallory is widely acknowledged as a master of the 12-string guitar. He continued to grow as a musician, picking up bass guitar and mandolin later in life. Lee Mallory serves as a mentor to the 100+ members of BayMusic Community, leading and teaching young musicians of all stripes by example.
Ten years ago, on his 50th birthday, Lee suffered liver failure and had been making the long climb back to health before complication from liver cancer took his life in San Francisco. Lee had recently completed a non-smoking class sponsored by the San Francisco Department of Public Health. When Lee became a non-smoker, he not only met a great challenge to his survival, he improved the quality, agility and expressiveness of his wonderful voice, he also inspired many young musicians who smoked to follow suit. Lee Mallory's music is included in two Rhino Records: Hallucinations: Psychedelic Pop Nuggets From The WEA Vaults and Come To The Sunshine. Re-releases of early material are available from Sonic Past Music.
Lee completed six songs for a much-anticipated recording at Last Stop Records, accompanied by young Bay Area talent he has nurtured. Working with producer Alex James Muscat the two completed six studio tracks featuring 'Unicorn Song', 'Changin' the Rules of the Game', 'Song For Sharon' "Doesn't Anybody Stay Put Anymore' & 'Gone when I'm Gone'. Record due for release JAN 10th-2006.
Lee put together a tremendous group of musicians to cut a track he wrote in a stream of conciousness back in 1992.
'Everything Is Alrite Now' features performances by...LEE MALLORY, GUITAR, VOCAL, TUBO, FELIX BANNON, LEAD GUITAR, JEFF BELBEY, MANDOLIN, MIKE TOTH, BASS, ROBERT JOHNSON, DRUMS, TAMBOURINE, JEREMY HANBERRY, VOCALS, DEIRDRE FOGARTY, VOCALS, KIM THEURICH, VOCALS, BRANDI TESKE, VOCALS, JESEPPI WILDFEATHER, GUITAR, VOCALS, CALVIN MURASAKI, VIOLIN.